PRIME is a bridge saw ideal for the building sector. New design with vanguard technical innovation, strong and precise, it is suitable for cutting bricks, stones, concrete blocks, granite, marble, slabs.
It makes cuts moving forward manually the engine group.
It is built to work with diamond disk Ø350 mm.
Laser instrument and kit wheels are supplied standard or as optionals.
Equipped with:
– Single phase engine 230V 50Hz 3Hp/2,2 Kw with thermal and amperometrical protection
– Switch with release coil
– Overheat protection with manual reset
– Sliding cutting head and tilting engine
– Cutting progress system with hand wheel
– Adjustable legs
– Adjustable goniometer fence
– Water recycling pump type S3
Water cooled
Disk Ø 350 mm not included
Three phase engine available upon request.
| | |
| --- | --- |
| MAX CUTTING LENGHT | 1000 mm |
| SIZE TILE FOR DIAGONAL CUTTING | 705×705 mm |
| MAX CUTTING THICKNESS | 110 mm |
| MAX CUTTING DEPTH FOR 45° (JOLLY) CUT | 80 mm |
| DIAMOND BLADE DIAMETER | Ø350 mm |
| TOOL HOLE | Ø25,4 mm |
| POWER ENGINE | 3Hp/2,2Kw, 9A |
| MAX CUTTING DEPTH WITH 2 RUNS | 180 mm |
| MACHINE'S DIMENSION IN STOCK | 72x175x100 cm |
| LASER INSTRUMENT | Optional |
| ENGINE TYPE | SINGLE-PHASE 230V~50Hz |
| ROTATION SPEED | 2800rpm |
| AMPEROMETRIC PROTECTION | 13 A |
| SIDE BENCH DIMESION | 855×625 mm |
| MACHINE'S DIMENSION | 1720x770x H1305 mm |
| WEIGHT | 83 kg |
| THERMIC PROTECTION | 160°C |
| WATER PUMP | S3 |
| WATER TANK CAPACITY | Min.23 / Max.36 liters |
| SIDE TILE SUPPORT | Optional |
| LONG SLOT FOR SIDE TILE SUPPORT | Optional |
| CUTTING PROGRESS SYSTEM | Standard |
| SIDE BANCH WITH ROLLERS | Optional |
| EXTENSION SIDE BENCH | Optional |
| WHEELS | Optional |
| FENCE | Standard |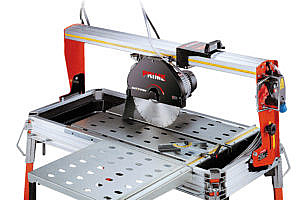 STRUCTURE
Alluminium draw-plate to get the maximum of rigidity and lightness at the same time.
BRIDGE
The rail is in extrusion of aluminium at high resistance to the torsional stress.
It's equipped with interchangeable stainless steel bearings-tracks.
Absolute cutting precision.
SCALE MEASURE
Millimitres graduated scale for a fast execution of the cuts in series.
GONIOMETER FENCE
A professional adjustable goniometer fence is included.
SIDE TABLE
The extension side table, made in galvanized steel, is optional and can be mounted in both the sides of the machine. It allows the cut of big sizes.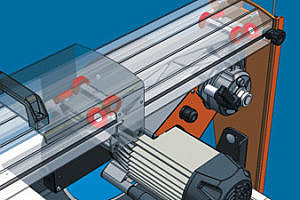 CARRIAGE
The carriage engine group slides on the rail by means 8 ball-bearings, of which 4 works always in perpendicular way respect to the rail. So doing the sliding is very fast and precise.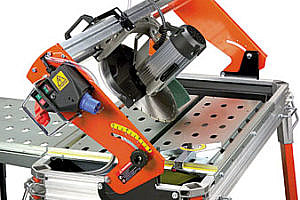 POSITION 45° ANGLE CUTS.
Position 45° angle cuts.
The wiring of the cables is integrated inside the rail to avoid they interfere in the cutting area. Powerfull engine 3Hp / 2,2 KW with thermal and amperometrical protection.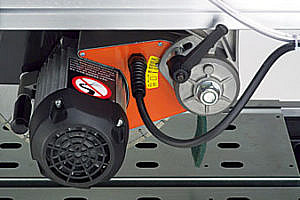 CUTTING DEPTH
The adjustment of the cutting depth occurs by means the locking of the tilting of the engine group. A simple and easy graduated scale measures directly the cutting depth.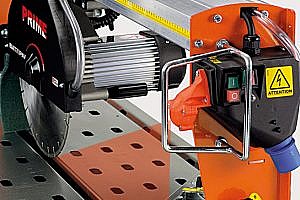 CONTROL BOARD
The control board includes:
– switch with release coil
– overheat protection with manual reset in the event of the disk jamming
– red light for signalling the presence to connection net
– green light for signalling machine on function
– laser instrument for the maximum cutting precision (optional in standard version)
– Plug industrial type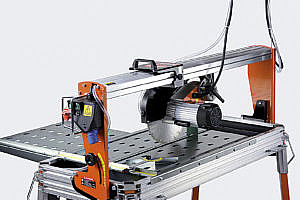 WORKING TABLE
The working table, of large dimension (620 mm.), is made in galvanized steel.
The water tank, realized in abs material, crash and consumption proof.
– It's easy to clean and realized to divide the cutting rubble from the recycling water's area.
– Water recycling pump type S2 included.